Yes!! I finally finished my first FREE project tutorial for you! I'm all excited about it. You may have seen the adorable Hexagon boxes on the internet that was shown at the 2011 Stampin' Up! Convention this summer. I love it so much! However... it's a bit small... If you have a gift to give of any decent size, you simply need a bigger box. So, I decided since everything is bigger in Texas, my Hexagon box should be too!
Download the Tutorial Here!
And leave me a comment so I know what you thought of the project.
I'm also being featured on
The Scrappin Mamma
today! This is so exciting! This is my first time to be featured on another blog so I welcome you to visit all my posts and follow me online!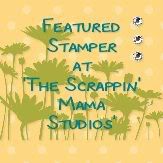 Thanks for looking!